CCC Online Test. Hello, Students today we are sharing this mock test series free of cost. by giving mock test you will be able to prepare better and do your best score in upcoming exams. in these mock test sets, we have tried to take important question.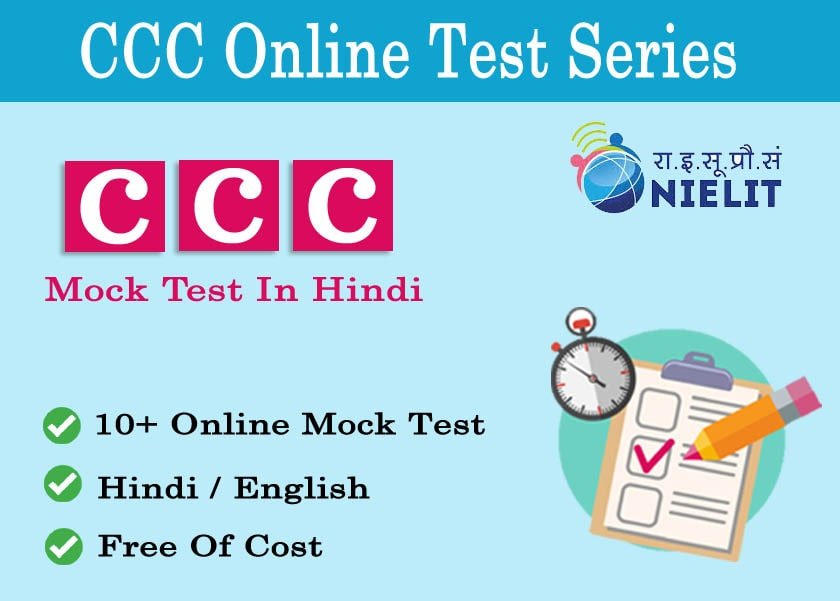 Ready to start! below some important mock tests available. I hope these can really help in your exam and your exam preparation
CCC Online Test Series –
About CCC Exam :-
The full form of CCC Exam is course on computer concept and this exam conduct by NIELIT ( National Institute of Electronics and Information Technology ) in every month cycle .
You can apply for ccc exam through institute or direct online. you can apply online for ccc exam from Nielit official website student.nielit.gov.in
There are a total of 100 questions in the CCC exam, four answers to each question are given as options, out of which you have to choose 1 correct answer. The correct answer gets 1 mark, the entire paper is of 100 marks, for passing it is necessary to bring 50% marks. There is no negative marking in the exam.
The marks obtained are shown in your certificate as grade. the grade is like this given below
| | |
| --- | --- |
| Obtain Marks | Grade |
| 50 से कम | Fail |
| 50-54 | D |
| 55-64 | C |
| 65-74 | B |
| 75-84 | A |
| 85 से ज्यादा | S |
CCC Online Test Grade chart