CCC Online Test 30 Questions. Hello students, today in this post we will give you an online test of CCC Online Test of 30 questions in which we have included all the important questions asked in the previous years. In each CCC online test, you will be asked 30 questions. Every correct answer will get one mark and there is no negative marking for the wrong answer to the question.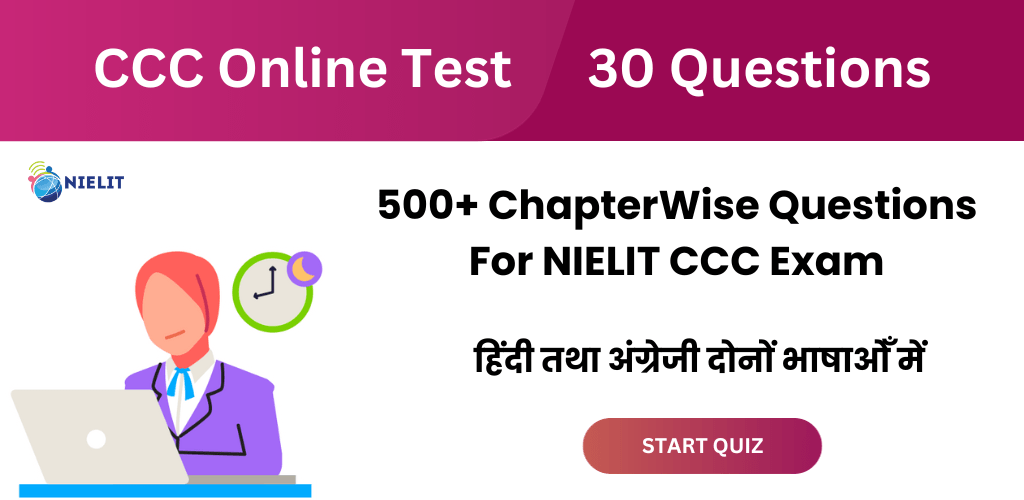 Chapterwise online tests have been given in this CCC 30 Questions online test series.
If you want to get good grades in the CCC exam then answer all these CCC online test 30 questions well and try to complete all the tests. You can also give 2-4 online tests daily. For this, you download our CCC Online Test and Study App from the Play Store now.
CCC Online Test 30 Questions in Bilingual
In this CCC Online Test 30 Questions test series, you will be asked 30 questions in each test which will be in both Hindi and English languages.
To get good grades on the exam, definitely attempt these tests CCC Online Test 50 Questions and CCC Online Test 100 Questions.
Introduction: The CCC exam is a big deal for folks wanting to get better at computers. This post will help you understand the test and get ready for it.
Understanding the CCC Exam: The CCC exam checks how much you know about basic computer stuff. It's great for anyone who wants to learn more about computers.
CCC Exam Basics: You don't need special qualifications to take the CCC exam. Anyone can go for it, whether you're a student, a pro, or just someone who likes computers.
About the Exam:
There are 100 questions in the CCC online test.
You get 90 minutes to finish.
Questions come from different topics, like basic computer stuff, operating systems, word processing, and more.
The mode of CCC Exam is online which means there will be no use of Pen and Paper.
Aspirants can appear only in Multiple Choice Type Questions (MCQs) or Objective Questions.
Also, there will be no negative marking in the CCC Exam.
Applicant must have to be secure 50% marks to issued the CCC Certified
| | |
| --- | --- |
| Mode of Exam | Online Exam |
| Type of Question | Objective Type Questions or MCQs |
| Number of Tests | Only one paper |
| Number of Question | 100 Questions |
| Duration Of the Exam | 90 Minutes i.e., 1.5 Hour |
| Negative Marking | No |
| Total Marks | 100 Marks |
| Qualifying Marks | 50% Marks |
How You Get Graded:
Each question gets one point, and there's no punishment for wrong answers.
To pass, you need at least 50%.
| | |
| --- | --- |
| Total Marks | Candidates Grade |
| More than 85% Marks or its equivalent | Grade- S |
| 75% – 84% Marks | Grade- A |
| 65% to 74% Marks | Grade- B |
| 55% to 64% Marks | Grade- C |
| 50% to 54% Marks | Grade- D |
| Less than 50% of Marks | Fail |
Prepping for the Exam:
Know the basics of computers and common software.
Manage your time well during the test.
Use study materials from NIELIT and other good sources.
Do practice tests to see how ready you are.
Signing Up for the CCC Exam:
Register on the NIELIT website.
Fill in the form and pay the fee.
After the Exam:
Pass, and you get a CCC certificate.
The certificate is good forever, helping you in your career.
Conclusion: The CCC test isn't just about passing—it's about getting better with computers. Know the exam, and prep well, and you'll open doors to more opportunities. As Winston Churchill said, "Success is not final, failure is not fatal: It's the courage to continue that counts." Best of luck with your CCC exam! Work hard, stay determined, and go show what you've got